Other /
20 Jan 2008
Detroit Public School Books Depository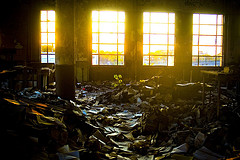 I think this image really speaks for itself; there's not much that I can say to add to it. The photographer, username "Sweet Juniper" on Flickr, discusses it on their blog. Be sure to view it at a large size in order to appreciate it properly.
Although I've done my share of photographs in abandoned buildings, most of the places I've been were your pretty standard post-industrial, "the world has moved on" landscape. They really have nothing on these locations, which are positively apocalyptic.
As a quasi-counterpoint – lest you start to draw overbroad conclusions about the city as a whole – the "Detroit is Beautiful" set, by the same photographer, is also worth a look.
(Via Reddit; also spotted on BoingBoing. Image is CC-BY-NC-ND 2.0.)
This entry was converted from an older version of the site; if desired, it can be viewed in its original format.